Respectfully, I am just asking some basic questions:


Have we become a victim of Israel insecurity among Arabs going back over two thousands year? Have we replaced the Persian protection of Israel with our American might? Have we been an Israeli proxy by invading Iraq? Why Israeli Lobby urging the United States to invade Iran?

Israel has about 200 nuclear bombs. Israel is not supporting IAEA; not a member. Iran does not have a single nuclear bomb! Iran is developing a nuclear fuel cycle to make fuel cells for electrical energy production using reactor…just like Japan, Germany and many others.
Iran has not attacked any country for the last 250 years… about the age of our country the good old USA. Is this true about Israel? Israel security is linked to stability in the region; Iran is part of this region.
Why are we so concern about Iranian potential to develop nuclear bomb some 10 or 15 years from now? How about Israel and her nuclear bombs?
We spend our precious tax money to bribe the regional nations by giving them "foreign aids", please spare me! We arm these nations, all of them. Some of the same arms have been used to kill our people. Except for Iran, not a single American has been killed by Iranian people.
Who attacked our on September 11, 2001? they were not Iranians!


Who attacked and killed our people on
USS Liberty
? They were not Iranian!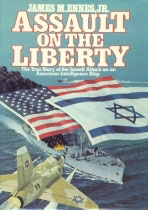 Should we spend our money and expertise in our hemisphere rather than 7500 miles from home? Our national interests must be our first imperative. If you would travel in out of places, for example, in Southern Illinois, Indiana, Kentucky, Virginia, Alabama, Oklahoma, etc. you see population in dire needs, poverty similar to poverty in third world nations. If you would travel to most regions in Mexico, our neighbor to the south, you see abject poverty.
Should we spend our national resources in these areas, rather than as bribe money to some ungrateful nations? Charity starts at home, our own USA, then to the nearest neighbor Mexico.